Specializing in developing customized enterprise mobile apps powered by cross-platform frameworks endows Centogram to burgeon at GoodFirms as one of the top mobile app service providers in Ohio.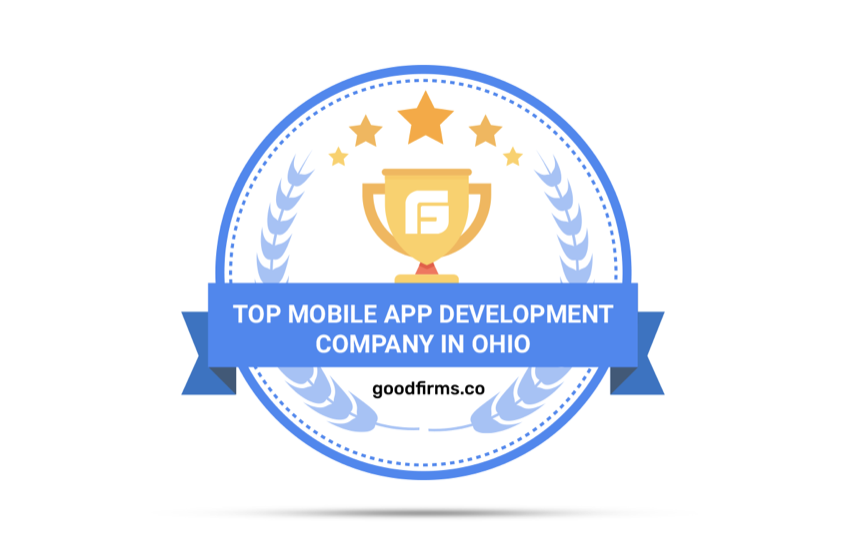 Overview of the Company:
Incepted in 2009, Centogram is a custom mobile and web development company based in Ohio. The team at Centogram pride themselves in delivering thoughtful strategy and designs irrespective of the screen sizes. The applications are developed as per the clients' vision and requirements. Moreover, the group of professionals has successfully delivered solutions to Fortune 500 companies across the nation, and they work hard to surpass the clients' expectations.
Since its inception, Centogram has launched various successful projects for clients from different verticals, including P&G, Michaels, Cintas, Time Warner Cable, Rolls Royce, and varied Universities.
Centogram's founder, Jerod Fritz, oversees all aspects of client service and development. He renders thoughtful strategy and consultation for clients and companies by equipping them with robust technology solutions that are specifically designed for them to scale their businesses. Moreover, Jerod holds experience in conceiving, designing, building, and delivering products and services that satisfy users and increase the ROI of clients' businesses.
GoodFirms' Research Process:
GoodFirms is a B2B evaluation and review platform that portrays the active and well-performing IT and software businesses. GoodFirms judges the service-providers listed with it to help service-seekers get their ideal partner by using its inclusive analysis process. Researchers' evaluation process is based on the three essential aspects, viz Quality, Ability, and Reliability.
Same way, the GoodFirms unit also judged Centogram and found that with its exceptional services and solutions in mobile app development and app designing, the firm gets entitled as the leading company in the sections mentioned above. Besides this, the researchers also concluded that Centogram would soon lead amongst top web development companies in the USA at GoodFirms.
The excerpt mentioned-below from the research done by the GoodFirms for Centogram proves its working ethics.
Developing Robust & Comprehensive Apps:
Businesses and enterprises worldwide are trying to hop on the bandwagon of digitization. The first step towards digitization is developing mobile apps matching with the needs of today's competitive market. The app developers at Centogram not only digitizes the clients' business process, but they also support them in generating digital data collection points and making informed decisions to cater to the evolving customer demands and expectations.
Moreover, Centogram provides end-to-end mobile app services right from consulting and management to developing and maintaining the whole technology ecosystem. The services catered to the clients by Centogram's expert team are –
Mobile Apps
Desktop Apps
Progressive Web Applications
Wearables
Full Stack Development
Backend APIs creation
ERP Integration
Thus, by helping clients by providing them with easy-to-use and engaging mobile apps that boost their respective sales and profits through a personalized user experience bequeath Centogram as one of the top mobile app development companies in Ohio at GoodFirms.
Creating Intuitive, Engaging & Effective Interfaces:
At Centogram, the expert designers' team adheres to the latest UI & UX standards to accouche top-notch products that satisfy user needs. The apps developed at the company are agile and scalable, enabling customers to interact with clients' teams, no matter which device they're using.
Moreover, professional app designers guarantee the best mobile experiences with responsive interfaces. The expert team at Centogram designs innovative mobile designs for cross-platform, iOS apps, Android apps, and web apps.
Any app developer can code, but only Centgram brings intelligent coding experience to businesses worldwide, from small start-ups to mid-market businesses struggling with sales to established Fortune-500 companies. Thus, building fully functional and feature-rich apps with rigorous A/B testing to support clients' businesses endows Centogram to lead as a top app design company in Cincinnati at GoodFirms.
The review displayed below is the evidence of the elegant designs curated at Centogram.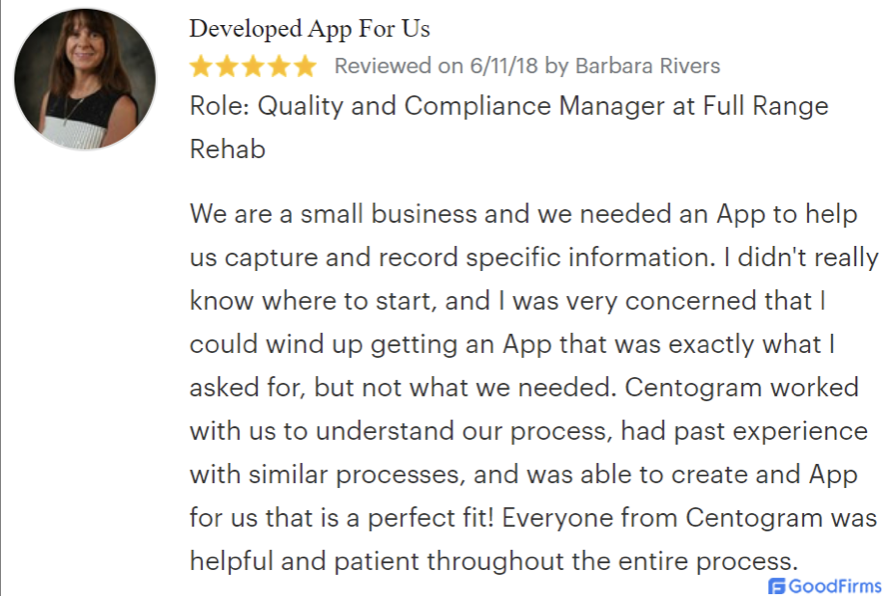 Developing Variety of Robust Website Solutions:
At Centogram, expert web developers convert designs into realities. Practicing HTML and CSS as the cornerstone of the entire web projects, the team ensures that every site developed is entirely organized using the latest standards. Moreover, the group uses technical programming standards that bolster clients' user experience while devising the foundation for optimal search engine exposure. Furthermore, the in-house web developers' team uses the most advanced tools to write the actual code that forms the websites' backbone, and every project build is made from scratch.
Thus, creating robust, beautiful, and highly-customized sites that thrive on all platforms connecting with each person worldwide would soon endow Centogram as one of the top website development companies in the USA at GoodFirms.
About GoodFirms
Washington, D.C. based GoodFirmsis a maverick B2B research and reviews company that helps in finding web development, mobile app development, and app designing agencies rendering the best services to its customers. GoodFirms' extensive research process ranks the companies, boosts their online reputation, and helps service seekers pick the right technology partner that meets their business needs.
About the Author
Anna Stark is presently working as a Content Writer with GoodFirms – Washington D.C. based B2B Research Company, which bridges the gap between service seekers and service providers. Anna's current role allows her to shape every company's performance and critical attributes into words. She firmly believes in the magic of words and equips new strategies that work, always in with ideas, something new to carve, and something original to decorate the firm's identity.